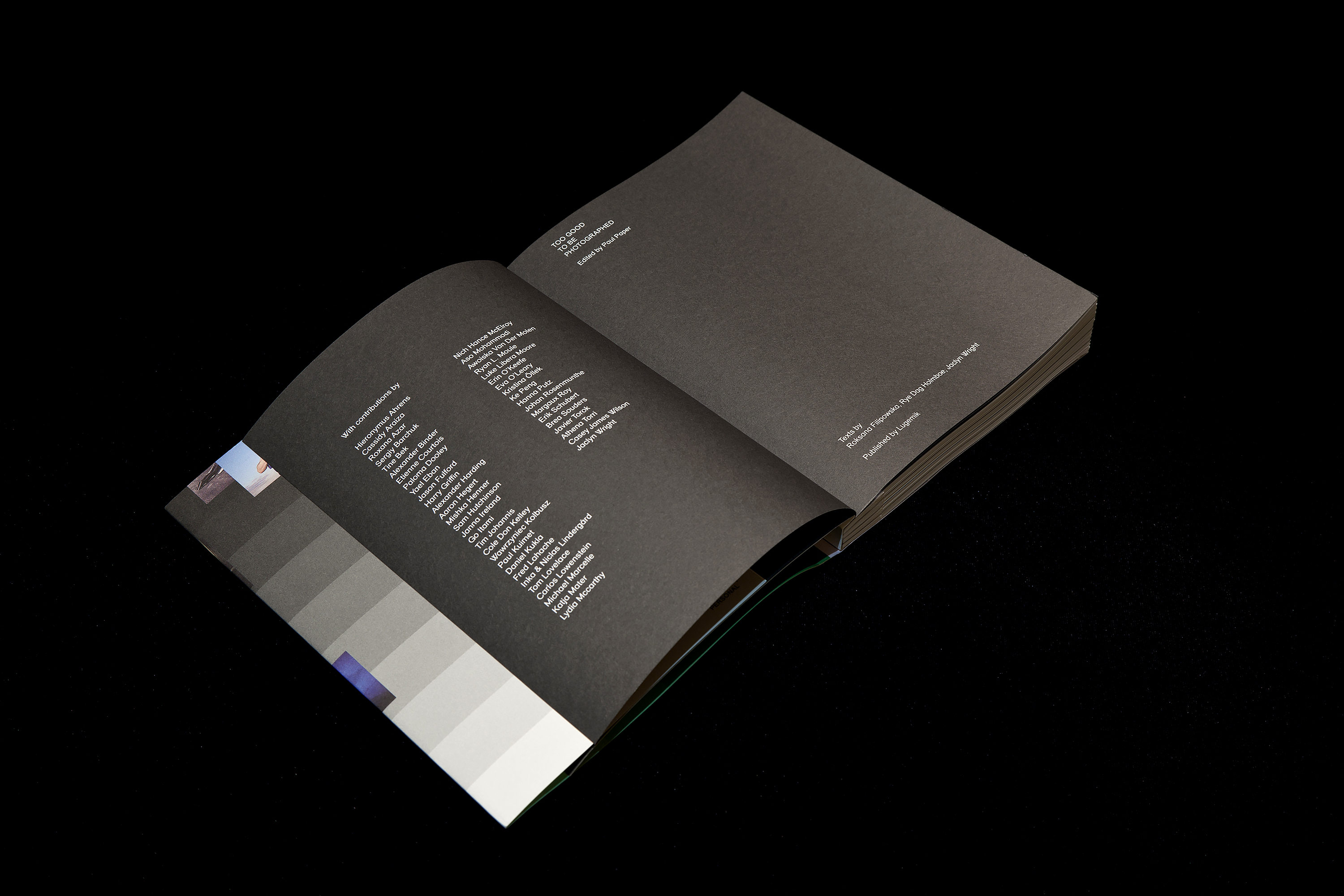 Too Good To Be Photographed
Paul Paper (Ed.)

---
Edited by Paul Paper
Texts by Roksana Filipowska, Rye Holmboe, Jaclyn Wright, Paul Paper

182 × 236 mm
240 pp
Offset printing
Perfect binding
Dust jacket
In English
Graphic design: Indrek Sirkel
Colour correction: Vaidotas Aukštaitis
Typeface: Arial Grotesk (Alfa Type)
Paper: Munken Polar 120g
Printed by Tallinn Book Printers
28 EUR
Edition of 600
Published by Lugemik
ISBN 978-9949-9934-5-1
2017


---
With this project, artist and curator Paul Paper explores the many sides of photographic failure. On the one hand, the book looks at photography's inability to replicate vision accurately; on the other, it deals with a larger cultural issue. Too Good To Be Photographed deals with the malfunctions of the mechanical eye as well as with the medium failing as a cultural replicator of our looking. The publication presents an insight into the side of photographic practice that is habitually hidden: failures, cul-de-sac experiments, non-successes, defeats. It is based on Paper's conversations with more than 60 photographers during the past year and a half, features over 150 images by 47 artists from 17 countries all over the world. The works are accompanied by texts by the artists themselves, and four essays specially commissioned for the publication.

In the book, there is one double page dedicated to each work, the right side of which can be folded out. In the text printed on the outer side of the folded page, the authors explain why in their opinion the work has failed; when unfolded, the work itself is revealed. The essaysare printed in negative, white text on black background. The dust jacket is a folded poster, where the worksare organised according to the type of failure on the axis of technical-personal-conceptual-experiential.

Contributions by Hieronymus Ahrens (DE), Cassidy Araiza (US), Roxana Azar (US), Sergiy Barchuk (US/UKR), Tine Bek (UK), Alexander Binder (DE), Etienne Courtois (BE), Paloma Dooley (US), Yael Eban (ISR), Jason Fulford (US), Harry Griffin (US), Alexander Harding (US), Aaron Hegert (US), Mishka Henner (UK), Sam Hutchinson (UK), Janna Ireland (US), Go Itami (JPN), Tim Johannis (NL), Cole Don Kelley (US), Wawrzyniec Kolbusz (PL), Paul Kuimet (EE), Daniel Kukla (US), Fred Lahache (FR), Inka & Niclas Lindergård (SE), Tom Lovelace (UK), Carlos Lowenstein (US), Michael Marcelle (US), Katja Mater (NL), Lydia Mccarthy (US), Nich Hance McElroy (US), Aso Mohammadi (IRN/CH), Awoiska Van Der Molen (NL), Ryan L. Moule (UK), Luke Libera Moore (US), Erin O'Keefe (US), Eva O'Leary (US), Kristina Õllek (EE), Ke Peng (CHN), Hanna Putz (AT), Johan Rosenmunthe (DK), Margaux Roy (FR), Erik Schubert (US), Brea Souders (US), Javier Torok (AR/US), Athena Torri (ECU/IT), Casey James Wilson (US), Jaclyn Wright (US).


---